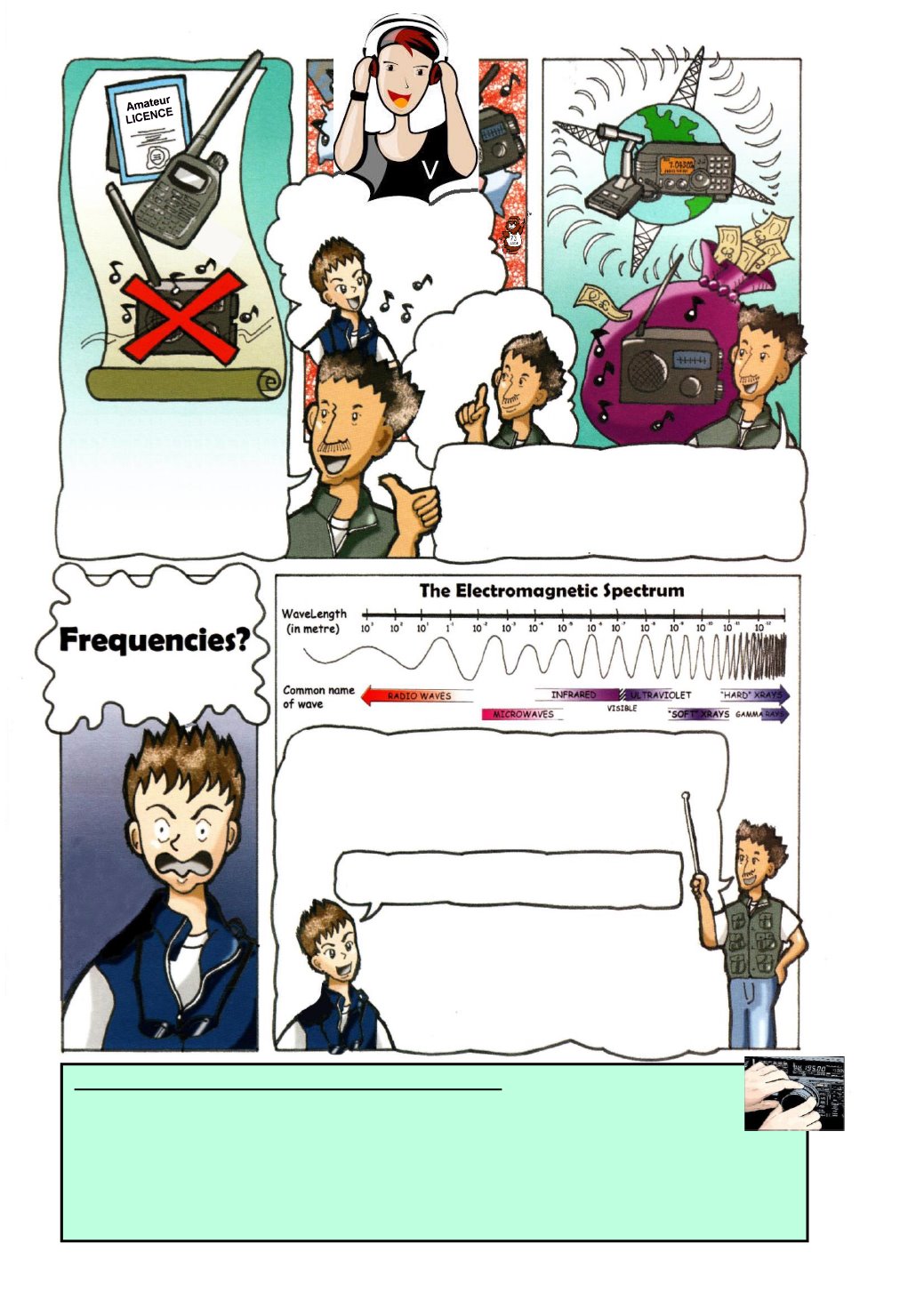 2
Both. There are BANDS of frequencies set
aside for Amateur use. Some bands use
low frequencies – these are long waves,
longer than a house – and some use high
frequencies. Some Amateur waves are
so small they are called
'microwaves'
.
That's
not
Amateur
Radio.
Radio is part of the electromagnetic spectrum, just
like x-rays and light. All electromagnetic energy
travels in waves at the speed of light. The
longer
the wavelength, the
lower
the frequency and the
shorter the wavelength the higher the frequency.
So are Amateur Radio waves longer or
shorter than one's received by my radio?
But why
not? I hear music
on my radio
all the time.
Amateur Radio is a fun
and exciting hobby.
It is
regulated and licensed in
the UK by
OFCOM
.
You can't
broadcast
or
play
music
over Amateur Radio.
That's
Broadcast Radio
.
It transmits
programmes as a public service, or
to make
money through advertising.
Amateur Radio
is not for commercial use, and your radio
doesn't pick up Amateur frequencies.
Amateur Radio Bands available to beginners include:
Low Frequency LF:
136KHz,
High Frequency HF:
160m (1.8MHz), 80m (3.5MHz),
40m (7MHz), 30m (10MHz), 20m (14MHz), 17m (18MHz), 15m (21MHz), 12m (24MHz),
10m (28MHz),
Very High Frequency VHF:
6m (50MHz), 4m (70MHz), 2m (144MHz),
Ultra High Frequency UHF:
70cm (430MHz),
Microwaves:
3cm (10GHz).
Hz stands for
Hertz
and is named after the German scientist Heinrich Hertz who discovered
electromagnetic waves – at first called Hertzian Waves.
A frequency of 1 Hz is one wave per
second, 1 KHz is one thousand per second, 1 MHz is 1 million, and 1 GHz a thousand million.